Culture & Education
The Sigtuna Foundation is a center for crossover dialogue between, art, faith and society. We offer various kinds of cultural programs, such as concerts, art exhibitions, author meetings etc.
Are you interested in our program, please contact us at +46 8 592 589 85 or at program@sigtunastiftelsen.se
News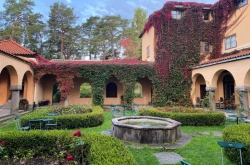 Arts and Culture at the Heart of Climate Action – CCL Summit in Sigtuna
20 October, 2022
Creative Climate Leadership (CCL) is a growing network of climate justice leaders, artists, policy-makers, scientists and youth activists working in the arts and culture sector to strengthen creative climate mobilisation.
On the last day of the CCL summit in Sigtuna Sweden November 2, organisers Julie's Bicycle, Lucsus at Lund University, Sigtunastiftelsen and Postkodstiftelsen invite media, members of the public and the arts and cultural community to an inspiring afternoon of talks and performance focussed on arts, creativity, and climate justice.  The event features speakers from Julie's Bicycle, Stockholm Resilience Centre, Moderna Museet, Live Green Festivals, Fridays For Future and the Arts of Councils of Sweden, Denmark and Norway.
For more news visit our Press room