Peacebuilding and conflict transformation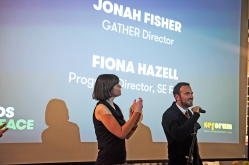 We are inviting you to an afternoon of peacebuilding and conflict transformation. Together with 16 changemakers, running peacebuilding initiatives in communities across the world affected by conflict, you will have the opportunity to learn more about conflict transformation from those who practice it.
The afternoon will start with a lecture on technology's role in the future of conflict transformation; showcasing  Uppsala University's unique conflict data program (UCDP) and the revolutionary The ViEWS program, that helps predict the next act of violence in ongoing conflicts. After the future-focused lecture, the 16 changemakers will share inspirational stories of what they are doing today to transform conflict in their communities.  We then invite you to meet them over fika at the close of the event.
This event is a part of a yearlong fellowship program (GATHER Fellowship) organized by Seeds of Peace and SE Forum. Last year the participants derived from 8 different countries, including Palestine, Israel, Pakistan and Cyprus.
– In cooperation with Seeds of Peace, SE Forum, Uppsala University and Pax et Bellum
The open seminar is free of charge. Those who wish to have lunch before the seminar can make a reservation when you register to the event. ( 170 SEK.)