Arts and culture at the heart of climate action
Sigtunastiftelsen 2 November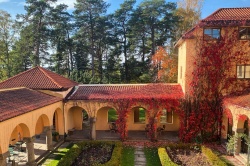 Julie's Bicycle, Lund University, Sigtunastiftelsen and Postkodstiftelsen invite you for an afternoon of talks on art, creativity, climate justice and why culture can transform the climate conversation.
As the climate emergency unfolds, the Arts and Creative industries are being called to be at the heart of urgent transformative action. At the same time, creative industries are undergoing rapid change. 
In this afternoon of conversations with climate justice leaders, artists, policy-makers, scientists, and youth activists we will explore what kind of leadership, practices and policies are vital to realise the true potential of the arts in times of climate breakdown – not only to support societies to tackle emergencies but to open up new horizons. 
The event is the culmination of Julie's Bicycle's Creative Climate Leadership Scandinavia program that has brought together 50 creatives committed to climate action from across the Scandinavian cultural sectors. On the eve of COP27 international climate negotiations, we aim to champion the role of arts and culture and strengthen creative climate mobilisation.
Where: Sigtunastiftelsen, Sigtuna, Sweden
When: 2 November 2022, 14.30 – 17.30 
Partners: Julie's Bicycle, Sigtunastiftelsen, Lund University, Postkodstiftelsen
About the Creative Climate Leadership Program
Between July 2021 and 2022 two leadership programmes took place with pioneering arts and cultural practitioners at the forefront of climate action. Centred around climate justice, almost 50 of Scandinavia's creative change-makers came together to explore leadership, justice and sustainable practice in the context of a rapidly diminishing opportunity to keep temperatures below 1.5 degrees of warming. Culture – the arts, heritage and creative industries – has been missing from climate and justice solutions at all levels. This in spite of a growing global mobilisation of culture on climate. Julie's Bicycle, Diego Galafassi hosted two Creative Climate leadership programmes,  funded by Svenska Postkodstiftelsen. This event will celebrate the CCL alumni through showcase, performance and conversations at SigtunastiftelsenSigtuna Stiftelsen. With speakers from art, science and policy we will explore what needs to change so culture can help meet the Scandinavian regions' commitment to a safe, just world as set out in the IPCC 6th assessment report.
Relaterade Evenemang