Detta evenemang har redan ägt rum.
Toward the establishment of BRIDGES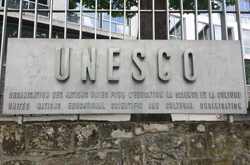 An International Sustainability Science Coalition
Building Resilience in Defense of Global Environments and Societies
In 2019 UNESCO and its partners (CIPSH and the Humanities for the Environment Global Observatory network) started a process to establish and launch an interdisciplinary global sustainability science coalition under the name of BRIDGES, Building Resilience In Defense of Global Environments and Societies, to address the most pressing social, economic and environmental sustainability challenges of the coming decade. The ultimate goal of this emerging coalition is to open new transformative pathways to help achieve a flourishing and sustainable world. In October the last out of three high-level workshops of the establishment process will take place at the Sigtuna Foundation. Adjacent to this workshop the BRIDGES community and the Sigtuna Foundation invite the general public to a one day symposium.
The symposium program will showcase the resources and vision of the BRIDGES community that have come together through the establishment process. An additional aim is to provide inspiring discussion and dialogue on the challenges and opportunities that can be met in concerted efforts to build resilience and sustainability through successful integration of diverse stakeholders, knowledge domains and action communities.
Sarah Cornell, Lab Head and Planetary Boundaries Group Coordinator, Stockholm Resilience Centre, Sweden
John Crowley, Section Head, Research, Policy and Foresight, Social and Human Sciences Sector, UNESCO
Patrick Degeorges, Director of the Anthropocene Curriculum, École normale supérieure de Lyon, France
Alan Ereira, Documentary filmmaker for the BBC and Professor of Practice, University of Wales, UK
Joydeep Gupta, Director, The Third Pole, Earth ournalism Network, India
Steven Hartman, Professor, Mälardalen University, Sweden, Director of the Humanities for the Environment Circumpolar Observatory
Thomas McGovern, Professor of Archaeology, Hunter College, City University of New York, and Convener, North Atlantic Biocultural Organization, USA
Sandrine Paillard, Director, Paris Global Hub, Future Earth, France
Lea Rekow, Director of Green My Favela, Brazil, also representing the Humanities for the Environment Circumpolar Observatory, USA
Marcy Rockman, International Council on Monuments and Sites (ICOMOS), IPCC Liaison, Climate Change & Cultural Heritage, USA
Mama Shibulata, Spiritual leader representing the Kogui People, Columbia
Erika Robrahn Gonzalez, Vice President, International Union of Prehistoric and Protohistoric Sciences, (UISPP), Brazil
Audience members will be encouraged to join in the conversation with sustainability specialists from around the world.
The symposium is held in English. It is free of charge and includes lunch and coffee. Limited number of seats, registration required. 
Relaterade Evenemang